Want to Learn More About LANAP?
Curious to learn more about this revolutionary, state-of-the-art procedure?
Gum Disease and Your Health
Gum disease has been linked to a variety of health complications including heart disease and low birth-weight babies. Until now the majority of the treatment options available were invasive and painful. LANAP is minimally invasive and does not require the cutting or stitching of the gums!
Laser Gum Surgery for Worthington and Columbus, OH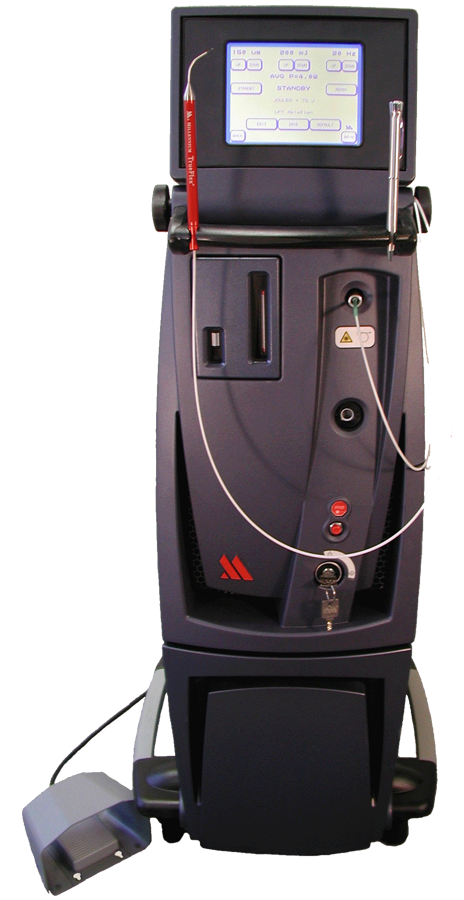 The Laser Assisted New Attachment Procedure, or LANAP®, is a highly effective and progressive gum disease treatment offered by Dr. TJ Miller II. LANAP® is a FDA cleared laser gum disease treatment with years of research to back it up. Dr. TJ Miller II is among a select group of periodontists in the country using LANAP® to treat gum disease. LANAP® is one of the most advanced gum disease treatments available.
LANAP® offers benefits no other gum disease treatment can offer. It is a cutting-edge treatment, guaranteeing significantly less pain and less discomfort than traditional treatments. The laser used during LANAP® is called the Periolase MVP-7. This laser is unique in that it targets only diseased tissue. This allows Dr. TJ Miller II to eradicate diseased tissue and bacteria while leaving healthy tissue in place and unharmed.
The laser works without the need for scalpels or drills, meaning no stitches or sutures after the procedure. The lack of sharp or abrasive tools during the procedure means less pain and discomfort for you, as well as a speedier recovery. Pain medication is rarely prescribed following your appointment. Faster healing also means you can return to your daily life and work much sooner.
Traditional treatment will almost always entail some degree of gum recession due to the use of a scalpel. The gum line can be reduced anywhere from 2-4 mm to 10-15 mm after a traditional procedure treating gum disease. LANAP® is minimally invasive, requires no incisions and causes little to no gum recession following the procedure.
The PerioLase MVP-7 also removes about 90 percent of the inflammation after one treatment. Bleeding is controlled by Dr. TJ Miller II using the laser. The benefits of laser gum surgery also include a higher likelihood you will keep your natural teeth.
If you are interested, or would like to know more about laser gum surgery for Worthington and Columbus, OH call Dr. TJ Miller II  today to schedule a consultation.